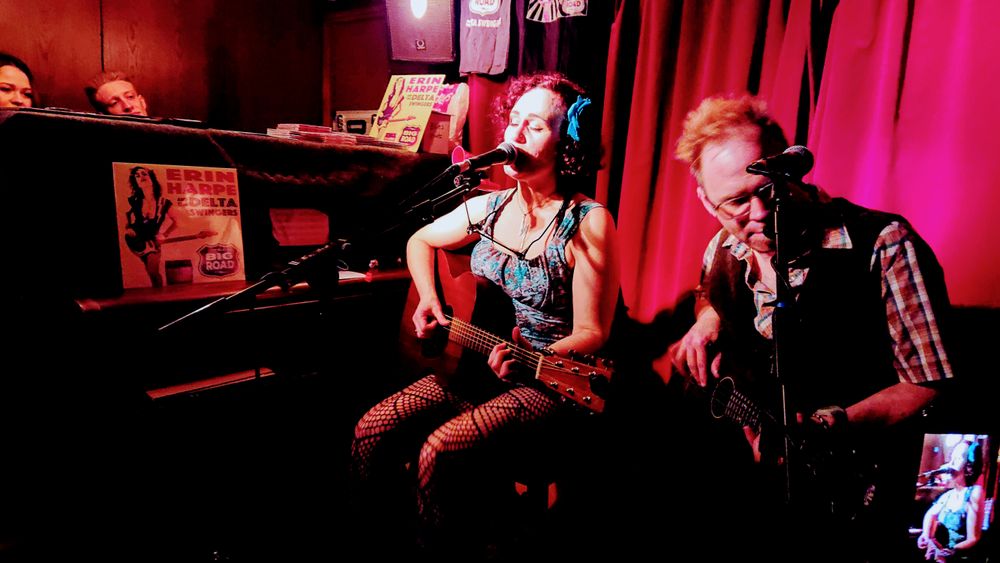 Juicy Juju Music & Management was established in 2000 by Erin Harpe and Jim Countryman as an independent record label, releasing Erin's first solo acoustic album "Blues Roots" that same year. The next year Juicy Juju Records released "Whip It Baby!", the debut album of Lovewhip (Erin & Jim's new genre-bending world music dance band)! Since then, Erin and Jim have been managing their various musical projects, including Erin Harpe & the Delta Swingers, Lovewhip, their new trio Erin Harpe & the Messers, as well as Erin's acoustic blues side, which includes teaching lessons & workshops in finger-style Piedmont and Delta blues guitar. Over the past 19 years Juicy Juju Music & Management – Erin and Jim and the team they've built to support them – through vision and perseverance, has navigated the bands' careers through 10 full length album releases (discography below), as well as music videos and other content, all while simultaneously playing over 2000 shows. Juicy Juju Music & Management has a full schedule of album releases and videos coming up in 2019, so stay tuned!
Thanks, 
Erin & Jim
Erin Harpe – Music Direction, Graphic Design, A&R
Jim Countryman – Management
To get in touch, email jim@juicyjuju.com.
VTJJ 003 (CD) – Erin Harpe and the Delta Swingers – "The Christmas Swing" 2018 
VTJJ 002 (CD/vinyl) – Erin Harpe and the Delta Swingers – "Big Road" 2017 
VTJJ 001 (CD) – Erin Harpe and the Delta Swingers – "Love Whip Blues" 2014 
JJR 013 (CD) – Lovewhip – "Love Electric" 2009 
JJR 012 (CD) – Erin and Neil Harpe – "Delta Blues Duets" 2008 
Un-numbered (CD) – Lovewhip – "Gimme That Two Song Single" 
JJR 011 (CD) – Lovewhip – "Virtual Booty Machine" 2005 
JJR 0010 (CD) – Lovewhip – "Live Booty Pop" 2004 
JJR 009 (CD) – Lovewhip – "Bouncehall" 2003 
JJR 008 (CD) – Lovewhip – "Whip it Baby" 2001 
JJR 007 (CD) – Erin Harpe – "Blues Roots" 2000